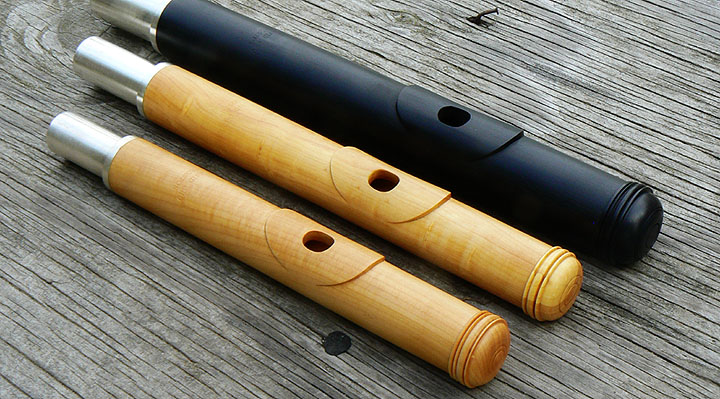 Flute D'Amore Headjoint
The boxwood headjoint in the middle of this picture is made for a flute d'amore, or flute d'amour. It is slightly bigger than the concert flute headjoint and smaller than the grenadilla alto headjoint. The flute d'amore is not well known; it is in the key of either A or Bb. The sound has characteristics of both the alto and the C-flute. I find it to be more similar to a C-flute but having a great vocal quality that is so difficult to achieve and highly desirable on a C-flute. Unlike the alto flute, a full three-octave range is available on the flute d'amore without any compromise. The low notes are stronger and the high notes require less holding back than the C-flute. The three registers are very evenly distributed especially concerning articulations and volume. 
Trevor Wye's CD "Flute Recital" utilized the flute d'amore. Many jazz flute players and recording artists also favor its singing quality. I have arranged Beethoven's String Quartets for 2 flutes, flute d'amore and alto flute. The d'amore flute takes the part of the viola. It is very comfortable to play in the lower range of the instrument while the C-flute can sometimes sound forced or spread.
One of the earliest d'amore flutes with Boehm system was made by Djalma-Julliot; Gaubert performed on it at the 1900 Paris World Fair. The instrument he played was referred to as the bass flute in A. The company was only awarded a silver medal that year while Louis Lot and Bonneville both won gold medals. In spite of the number of flutes produced, it is rare to see good examples of Djalma-Julliot's instrument in the United States.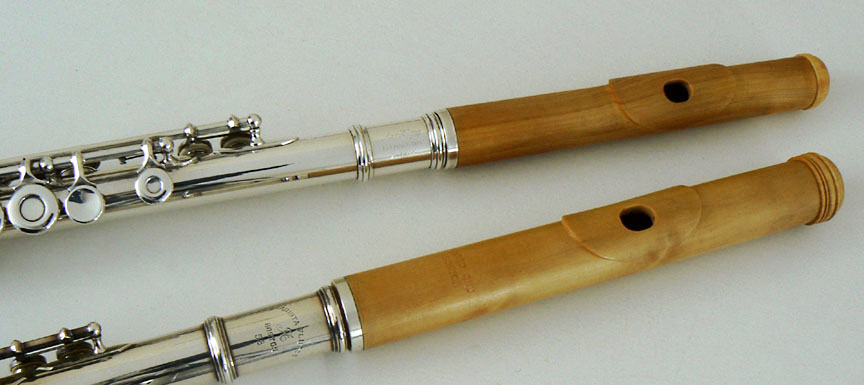 Eb Flute Headjoint in Boxwood
The Eb flute is a minor third higher than the C-flute. It looks more like a miniature flute than a piccolo. The small size makes it very easy to hold; long phrases that are difficult to complete on the C-flute are a breeze on the Eb. The sound is unique and expressive. 
---
For more information please e-mail david at sideblown dot com
---